"My knee ached. Sometimes, the pain would get so sharp, it would stop me in my tracks if I was working out. The pain would also get bad when weather got bad," says Mary Ann Froschauer.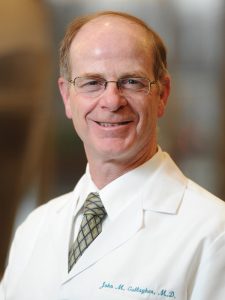 Due to her arthritis, Mary Ann is a candidate for total knee replacement surgery. However, the timing isn't right for the 49-year-old.
"I don't want to have a total knee replacement yet. I'm just not ready," she says.
Instead, she has relied on gel injections to help her manage her pain. That is until they stopped working.
John Gallagher, MD, RMSK, a Mercy Health orthopedic specialist (pictured left) who is also registered in musculoskeletal sonography, has heard stories like Mary Ann's many times before.
"Studies find that 50% of people who need knee replacement surgery can't have it for one reason or another. Also, younger people will delay surgery until they absolutely must have it," he says.
"In the meantime, these people take anti-inflammatory drugs and get cortisone or synthetic joint fluid shots to try and manage their pain. They also limit the activities that once gave them pleasure. These tools tend to be short-lived, since the drugs can have side effects and the shots fail to provide long-term relief or simply don't work."
When Mary Ann, who works in the same office as Dr. Gallagher, heard he had a new pain option available, she signed up right away.
This new procedure is called COOLIEF*. It uses tried and tested radiofrequency ablation to provide pain relief.
"Radiofrequency ablation is a minimally-invasive procedure that doctors already use to care for people with pain in other joints besides the knee. Now, thanks to an advance in technology, we have a new, heat-delivering probe available that we use to zap the nerves at the front of the knee," Dr. Gallagher shares. "These are the nerves that send pain signals to the brain. Because we don't touch the sciatic nerve, the patient's muscles are not affected at all, but they have the benefit of pain relief."
Qualified patients undergo a 45-minute outpatient procedure. Just two weeks after her own procedure, Mary Ann noticed a huge difference.
"I really don't have any pain in my right knee. When I would do squats or lunges or go up and down steps, it would hurt and now it doesn't. Now, there's no pain in my knee, even after 12-hour day. To me, having the COOLIEF* procedure was well worth it."
And Mary Ann is not alone.
Dr. Gallagher notes that "published studies show that about 75% of people get long-lasting relief from the COOLIEF* procedure. These outcomes are better than those we see from cortisone, anti-inflammatory drugs and steroid injections. While radiofrequency ablation won't stop the progression of their arthritis, it does give many patients effective and longer lasting pain relief than other pain management options."
Learn more about knee replacements as well all the sports medicine services we offer at Mercy Health.