Jay Overy is lucky to be alive. Thanks to a routine colonoscopy a few years ago, his doctors were able to catch and treat his colon cancer early before it spread.
Read his firsthand account of his journey to recovery here.
"My colon cancer journey started on November 19, 2017 with a routine colonoscopy at Mercy Health – Elyria Gastroenterology with Abdul Razack, MD. During the procedure, he found a 5-centimeter rectal mass. Dr. Razack and his staff were very caring when sharing this news. They helped my wife and I understand what was going on. Even though my wife has been a nurse for more than 25 years, it's obviously different when the patient is your spouse!
The next day, I had a CT scan at Mercy Health – Lorain Hospital. From registration all the way to the actual x-ray, the team that helped me was efficient, kind and empathetic. The day following that, we found out my rectal mass was cancerous.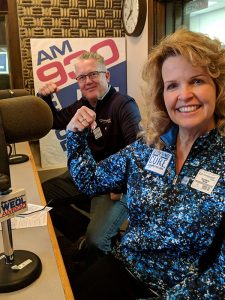 From there, I continued through the treatment process. I had a scope procedure with Alok Jain, MD, on November 25. He was wonderful and his team members were both supportive and informative. My surgery on December 2 ended up taking longer than planned. Kurt Dinchman, MD, a urologist, placed stents in my ureter and found some blockage that he removed. This ended up being very helpful in the long run. Another Mercy Health physician performed the rectal mass removal and ileostomy placement part of the surgery. He was amazing and personally called me several times during my recovery to check up on me and my wife. We were so grateful to him!
I had some unforeseen complications after my surgery, but the hospital staff helped me through it. Today, I am healthy and giving back by serving as a colorectal ambassador for a nationally recognized organization who focuses on awareness and raising funds to fight colon cancer."
Learn more about colon cancer and the health care services we offer at Mercy Health.