Due to COVID-19 visitor restrictions, many hospitalized patients are currently unable to have loved ones by their side. These precautions are in place to protect the health and safety of patients, health care workers and communities. However, feelings of isolation and loneliness can weigh heavily on patients as they work hard to heal.
During this difficult time, chaplains have been an important source of comfort and support to many of these patients as the COVID-19 pandemic continues.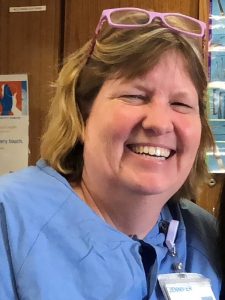 Meet Jennifer Discher, vice president of mission and values integration for Mercy Health – St. Vincent Medical Center and Mercy Health – Children's Hospital. She and her team of chaplains have been focusing on connecting with patients and their families, while providing the support they need.
"What we're finding is that in this time, people are really experiencing the difficulties associated with disrupted connections, with anxiety and grief, especially around the pandemic," Jennifer shares.
Much of her team's work is being done over the phone or through video conferencing platforms in order to connect with patients or to help patients connect with their families. The chaplains have also been a great source of comfort for health care workers, who are also grappling with tremendous stress.
"We know that this is a stressful time for our health care workers themselves, so our staff is regularly rounding on our health care staff. We've identified some quiet areas and created sacred spaces for them to have a moment to themselves to reflect, to pray, to do whatever they need to take a breath, so they can focus and do what they do best," says Jennifer.
Thank you to Jennifer, her team and all of our chaplains for the work you are doing to help our patients and team members.
Stay updated on what Mercy Health is doing related to COVID-19.