When Ken Cook began to sweat profusely and feel his chest start tightening while at work, he knew something was very wrong.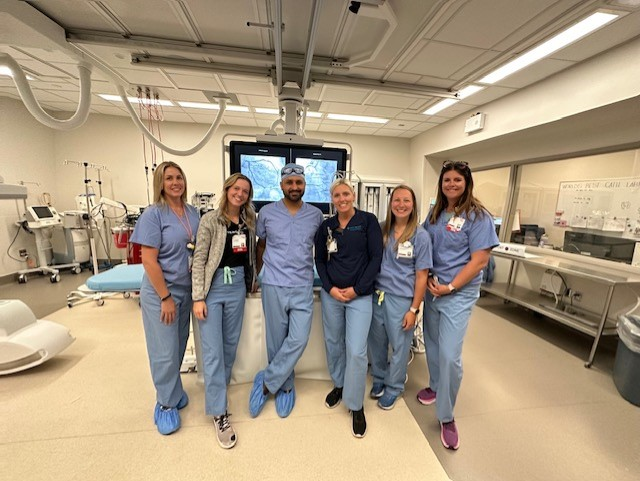 At 61, Ken was diagnosed with a heart attack and had an emergency stent put in by Heminder Singh, MD, one of our interventional cardiologists at Toledo Cardiology Consultants. A month later, Ken was scheduled to have two more for the residual blockages.
"I had one stent put in on May 1 and they scheduled me for the other two in Perrysburg," Ken shares. "I wanted to get it done so I could go back to work. Everything down in the cath lab was great. It was really good."
Ken was among the first two patients at Mercy Health – Perrysburg Hospital to have a stent procedure done, thanks to a new designation achieved by the hospital.
Starting June 6, Wood County's first and only cardiac catheterization lab achieved the designation of a Level II facility. This means patients experiencing an active heart attack or needing interventional procedures, including stents and clearing blocked arteries, can now have their procedure done at the Perrysburg Hospital.
"This state-of-the-art cath lab at Perrysburg Hospital has enhanced our ability to save more lives in Perrysburg, Waterville and Maumee area," Dr. Singh says.
"In addition, the area residents with advanced coronary artery disease can have their procedure close to home, eliminating the stressors of time, travel and availability of a larger facility."
Earl Williams, 65, also had the first stent done in the newly designated cath lab by Dr. Singh and the team. He, too, was happy to have his procedure scheduled in a timely manner so he could return to healing.
His first stents were put in place at Mercy Health – St. Vincent Medical Center on April 11. On June 6, he had additional ones put in at Mercy Health – Perrysburg Hospital. He says his experience was very good and everyone treated him very well.
"It's a good hospital," Earl adds. "Both of them."
Learn more about the heart and vascular services we provide at Mercy Health.