"Mercy Health mails you a notification every year to have a mammogram," Julie Emerson (pictured above, left) recalls.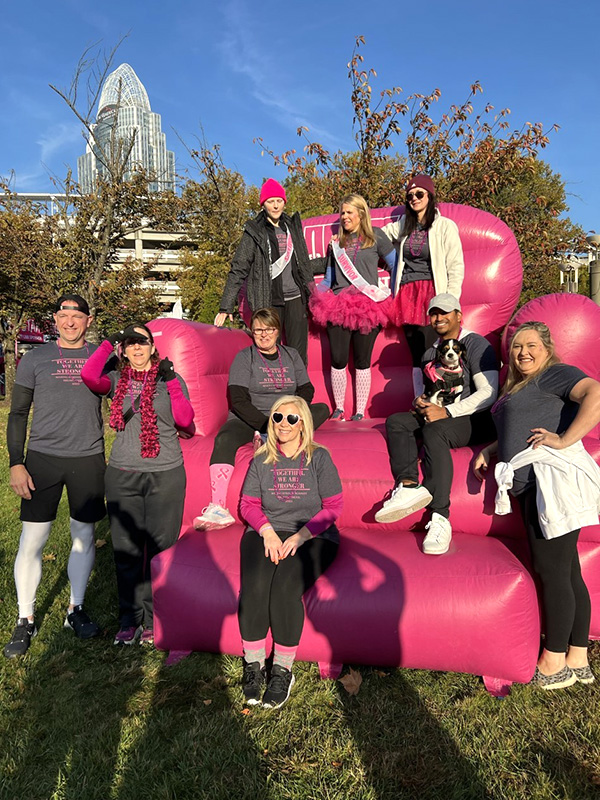 "I was tidying up and put it in a drawer. I found it later and said, 'I need to do this.' It was 2019 and Clermont Hospital had just opened a new women's center at its Eastgate Medical Center, so I had my mammogram there. That's where they found it. With my mom's history, my family was flipping out."
After dealing with metastatic breast cancer for 20 years, Julie's mom had died from the disease in 2015. Now, Julie, who worked as a nurse at Clermont Hospital at the time, was processing her own diagnosis.
Julie's mammogram was timely though, and she was diagnosed early at stage 1A. Her care team, including Abigail Tremelling, MD, a surgical breast oncologist, and Neil Kundu, MD, a reconstructive surgeon, discussed Julie's options with her.
"I was so surprised to learn that a lumpectomy with radiation still had a 20 percent chance of recurrence," Julie shares. "So, I chose to have a bilateral mastectomy."
Julie continues, "Sandy Tissandier, the nurse practitioner in Dr. Kundu's office, had worked at Clermont Hospital, too, so we knew mutual people. When I was trying to navigate finding care and treatment, so many details fell into place. I felt like this is where I was supposed to be. I felt very loved and cared for. I had the mastectomy and did fine."
Julie then learned the results of tests on her tumor.
"The surgeon sends the tumor for oncotyping, a test that predicts how likely breast cancer is to spread to somewhere else in the body. If your score is low, chemotherapy is of no benefit," Julie explains. "My score was low, but my tumor was estrogen sensitive, so I had surgery to take out my ovaries instead of having chemo."
Working as a nurse during the height of COVID-19 while also recovering from two surgeries was taking its toll on Julie.
"I was in Dr. Kundu's office with Sandy for a routine appointment when she said that the nurse navigator position was open since she had completed her education to become a nurse practitioner," Julie recalls. "I applied. It was in God's hands. I didn't seek it and if it was meant to be, it was meant to be."
In January of 2022, Julie was hired as the practice's nurse navigator to help other patients navigate their breast cancer care.
"I coordinate patient care between our different facilities, communicate patient issues with internal and external providers and provide education to patients," she explains. "Patient education is a big piece of what I do. Surgery is very complex and for patients to have all the information they need, they will meet with me for 60 to 90 minutes. We cover their surgery, what to do beforehand, the different options they have when it comes to reconstruction, how to care for yourself, applying for disability and more. Some patients have a staged reconstruction, and we will see them every week or two weeks for several months. I tell them it's a long-term relationship."
Perhaps the most important thing is that Julie has a real understanding of what her patients are experiencing.
"When I tell patients I've been through this, I feel this sense of relief from them," she shares. "I can talk with them about managing the side effects of medication and which bras to get from personal experience. I also connect them with different resources in the community and things that I found super helpful, such as certain blogs and Cancer Family Care."
Overall, Julie feels good about the work she does. And if she has one message she wants to share with other women, it's to have your annual screening.
"Get your mammogram. Advocate for yourself, push the issue and do breast self-exams. We have patients in our practice who are in their 20s. If something doesn't seem right, please keep pursuing it and get your mammogram. I'm certain that it saved my life."
This holiday season, we are celebrating by spreading the good news! Read more feel-good stories, like this one, that feature our team members, patients and the wonderful communities we are blessed to serve.
Also, learn about breast cancer as well as the cancer care services we provide at Mercy Health.