For David Wheatley, painting is not just his job, it's his life's work. For 73 years, he has been crawling around baseboards doing edging painting. David knew something was wrong one day when he began painting crooked lines. Later that same day, he realized he couldn't read the speedometer in his car.
"I couldn't see when it started," shares David.
David visited his eye doctor and had his cataracts removed, but his symptoms only worsened. On top of his sight issues, David felt weak, tired and had difficulty walking for long periods of time.
David finally visited Mercy Health – Paducah Neurosurgery to consult with a doctor and receive an MRI. The scan revealed a metastatic melanoma, or large tumor, growing in his brain and affecting his ability to see, among other things.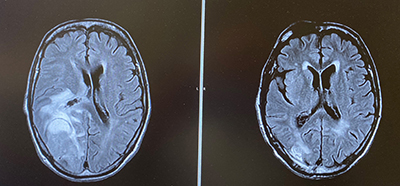 "I recommended surgery despite his age and the hesitance of other doctors," shares Brian Farrell, M.D., neurosurgeon and spine surgery specialist.
To which David asked, "can we do it tomorrow?"
Dr. Farrell conducted a brain tumor resection, or removal, just three days after David's MRI scan.
"The night after surgery, I woke up and thought, 'I'm supposed to be hurting?'" says David, revealing he wasn't even sore.
David didn't take pain medication during his two-week recovery or any time after the surgery. He also went back to work painting shortly afterwards.
"I just turned it all over to the Lord," says David. "I knew I'd be taken care of."
Of Dr. Farrell, David says "he's one of my best buddies… He brought my sight back… I'd recommend him to anybody for anything."
Now a brain cancer survivor, David has a lot to be thankful for this holiday season. He just celebrated his 89th birthday and is grateful to be healthy and alive.
"I've had a real good life," says David. "The Lord's taken care of me."
Learn more about the brain tumor treatments and services offered by Mercy Health.