As the product of a Jesuit high school, Glenn Mojzer took to heart the school's focus on building students who strive to be men and women for others. Years later, the act of helping others may have helped Glenn, 67, save his own life.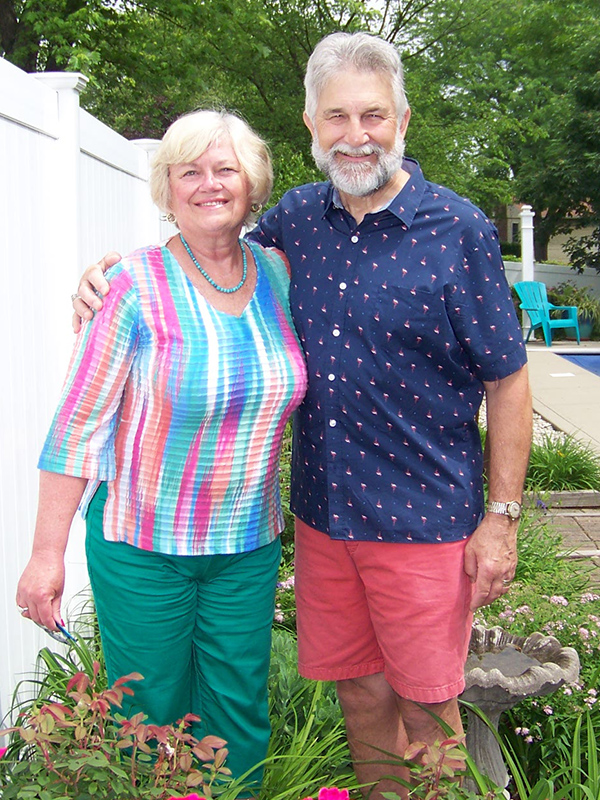 When Glenn's company arranged for Hoxworth Blood Center to bring a donation van on site at work, Glenn didn't hesitate to sign up and donate. That evolved to him giving blood regularly at a Hoxworth location in Cincinnati, Ohio.
"In early 2021, I was asked by Hoxworth several times to give blood, but my hematocrit numbers kept dropping and I couldn't," Glenn explains. "Then, in September, there was a great need for O-positive blood and I responded. I remember it was Sept. 17, my sister's birthday, and my hematocrit number was 29.5 percent. That prompted the Hoxworth nurse to say I needed to see my doctor."
Hematocrit is a measure of the percentage of red cells in your blood. Normal levels of hematocrit for men range from 41 percent to 50 percent.
Following two sets of bloodwork that confirmed Glenn's low hematocrit levels, his doctor suggested he make an appointment with OHC, specialists in adult cancer and blood disorders. There, Paula Weisenberger, MD, a medical oncologist and hematologist who had actually previously treated Glenn's wife, Marta (pictured in copy with Glenn), for tongue cancer, ordered more blood work.
"Dr. Weisenberger called to say, 'I think you have MDS, a blood cancer,' and suggested I see her colleague, blood cancer specialist Dr. Randy Broun," Glenn shares.
MDS stands for myelodysplastic syndromes, a group of blood cancers in which immature blood cells in the bone marrow fail to mature and become healthy blood cells. Randy Broun, MD, an OHC blood and marrow transplant specialist and cellular therapy expert, quickly ordered additional blood tests for Glenn as well as a biopsy.
"On Oct. 7, Dr. Broun confirmed I had MDS RAEB-2 and that I needed to be taken care of quickly," Glenn recalls.
"Glenn's type of RAEB, or refractory anemia with excess blasts, puts him at high risk of developing leukemia," Dr. Broun (pictured with Glenn above) explains. "Because he was evaluated quickly by Dr. Weisenberger and his diagnosis was made before disease progression, a stem cell transplant could prevent Glenn's MDS from becoming full-blown leukemia."
"Through successive office visits and prep, Diane Shapiro, a nurse transplant coordinator at The Jewish Hospital, became involved and the Be the Match program was the avenue we went to determine a donor," Glenn says. "We put the word out to friends and family saying that if they registered, it would be helpful."
Glenn's youngest sister CJ (Carolyn) was a perfect match and she agreed to donate her stem cells. However, just as Glenn was prepping for the stem cell transplant, he felt chest pain. Nearly six years to the day earlier, Glenn had also experienced chest pain and had a stent put in for a 90 percent blockage.
Admitted to the hospital, Glenn's cardiologist found another blockage. Together, they opted to treat it medically so Glenn could still have his transplant. On Jan. 6, 2022, Glenn went to the Mercy Health Cincinnati Cancer and Cellular Therapy Center at The Jewish Hospital to complete preparations for his transplant.
"On Jan. 11, Carolyn's stem cells were extracted and overnighted. On Jan. 12, I was given her donation of 5 million stem cells. I was in the hospital through Jan. 24. My numbers responded so well, I was released after 12 days, almost a record," Glenn recalls.
Subsequent biopsies and weekly blood work at Dr. Broun's office confirm that Glenn is doing very well with no sign of relapse. During all the time he's spent with Dr. Broun, they learned that they both shared a Jesuit education – Glenn at Walsh Jesuit High School in Cuyahoga Falls, Ohio and Dr. Broun at St. Louis University High in St. Louis.
"He had that parallel feeling of how Jesuits instill pride of service and sacrifice to others. He felt that commitment and has taken the Ignatian philosophy and worked it into his life," Glenn shares. "We see eye-to-eye on my treatment plan, and he wants to see me succeed in my long-term goal, which is to see my grandchildren Mitchell, 5, and Chelsea, 3, graduate from college."
Glenn continues, "I really liked Dr. Broun from the beginning. He has a firm handshake and gentle touch. He looks me in the face, is forthright and is a straight arrow. He's a good guy. The whole staff at Mercy Health has that same 'men and women for others' mentality. They are positive, answer directly or find the answer and are aggressive in that they want to get you in a state so that you can go home. That's true for the OHC staff, too. I can see that where I am now is because of the care and consideration given to me by these people."
Glenn's heart remains under control and a stress test happening soon will determine the next course of action there. In the meantime, he's back to being of service to others.
"I am working on my 50th high school reunion right now," Glenn shares. "We had a total of 156 graduate. We've lost 16. There are 64 graduates I can't track down but I'm working on it. Our class gift is a new van donation to the Labre Project, which sees students with canned food, socks, batteries and underwear travel in a van to feed and care for the homeless in Akron every Monday. We're already up to $15,000!"
Learn more about the cancer care and oncology services we offer at Mercy Health.