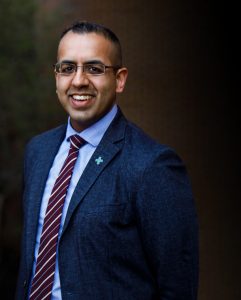 We are so proud to announce that Mercy Health Director of Operations for Behavioral Health Services, Dr. Navdeep Kang, has been selected by the Obama Foundation to join the inaugural 2018 Fellows class. Dr. Kang was selected for the fellowship from more than 20,000 applicants from 191 countries as one of only 20 civic innovators awarded the fellowship to scale the impact of life-changing community-driven work. 
Dr. Kang will join a two-year, non-residential program to create transformational change on one of our community's most pressing problems – the opioid epidemic. The Obama Foundation selected Dr. Kang to continue his work at Mercy Health building a regional collaborative network to treat addiction and develop a comprehensive continuum of care for patients struggling with opiate addiction.
"I am honored and humbled to be a part of the very first Obama Foundation Fellows class and look forward to joining a diverse class of community-minded civic innovators," said Dr. Kang. "When the next generation asks, 'What did you do when the biggest drug epidemic hit this country?' we want to be able say – and I think we will be able to say now – that we did something that no one had ever seen before."
The Obama Foundation Fellowship will offer hands-on training, leadership development, and a powerful network for Fellows to amplify the impact of their work and inspire a wave of civic innovation. Each Fellow will develop and pursue with the Foundation a personalized plan to leverage the fellowship and Obama Foundation resources to take their work to the next level. As Fellows put their plans into action, the Obama Foundation will assist with access to mentors, coaches, and additional resources.
Over the course of the two-year program, Obama Foundation Fellows will participate in four multi-day gatherings to collaborate with one another, connect with potential partners, and break down silos to advance their work. The first Fellows gathering will be in Chicago in May.
We celebrate Dr. Navdeep Kang, who is truly the epitome of the alignment of our rich tradition in having a lasting, positive impact on the communities we serve and our commitment to medical excellence. We are so proud of his work in the fight against the opioid epidemic and grateful that he is being honored as a 2018 Obama Foundation Fellow.
For more information on our work in the fight against the opioid epidemic and Dr. Kang's important role in this work, please visit our website.
Related Resources: