Young women in the United States are starting to menstruate earlier. Additionally, health care providers have noted that some of these girls don't have the information they need about puberty as well as how to manage their periods. And on top of that, young women in low income households can struggle to purchase feminine hygiene products each month.
These issues have led some girls to feel shame, fear and anxiety about their periods, which impacts their mental health and ability to thrive at school as well as in other social environments.
When our Paducah OB-GYN team raised concerns about these issues, our foundation provided mission outreach program funds to help Mercy Health – Lourdes Hospital combat period stigma. Together with our community health team, they created a program that provides both feminine hygiene products to young women as well as menstrual education to female students, their teachers and their coaches.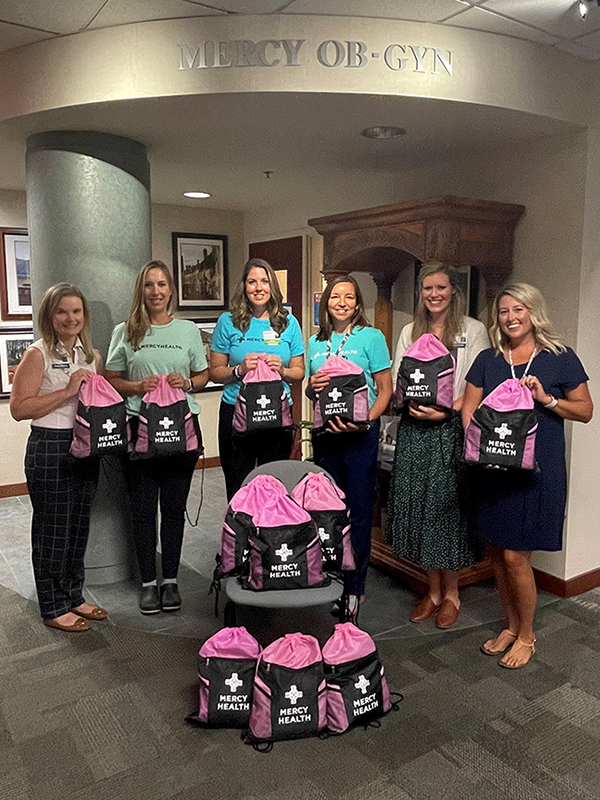 "It's challenging to talk about periods with young patients who don't fully understand what's happening with their bodies and are uncomfortable discussing menstruation," Sherri Dicicco, one of our OB-GYN nurse practitioner, shares. "We know that many girls are unprepared for this emotionally and many are also left unprepared practically, having limited access to basic feminine hygiene products. There are some who also lack social support at home to navigate this natural change in their lives."
Our foundation's funding supported the creation of 1,000 period starter kits, which hold about three months' worth of feminine hygiene products, including pads, pantyliners, tampons and many other toiletry items. The kits are available through Mercy Health – Paducah Obstetrics and Gynecology, Mercy Health – Midtown Pediatrics as well as our primary care practices so the providers can offer them to young women who have a need for the products during their office visits.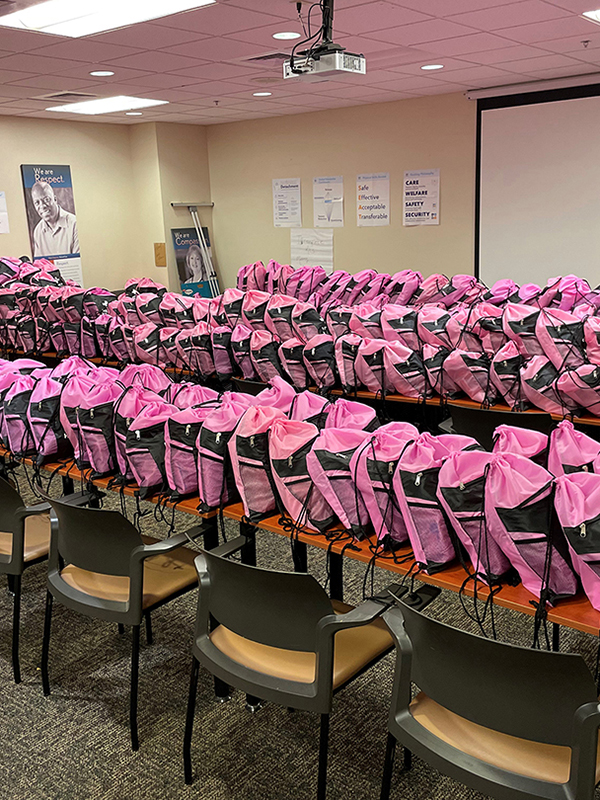 Since many patients may not have another appointment for a year or more, our teams also worked with the Family Resource and Youth Services Centers, McKinney-Vento Coordinators at Paducah Public Schools and McCracken County Public Schools for ongoing support, in addition to a number of local nonprofits in town serving young women. All organizations received the kits for their students, as well as educational books on feminine health and other materials from local resource groups should their students need any additional support.
"No child should have to struggle with anxiety or shame over something that is normal and natural," said Leigh Ann Ballegeer, our director of community health, shares. "We are thankful that our OB-GYN team noticed this issue in their clinic and brought it to our attention. As a result, we were able to create this program which will help our local young women thrive in school and beyond."
In addition to providing the period starter kits, our OB-GYN team continues to host open and informational discussions about how to manage menstruation as well as other women's health topics with students and teachers. These events focus on combatting the stigma surrounding menstrual health, promoting female empowerment and encouraging positive mental health.
"The onset of puberty is a pivotal moment, both in terms of human growth and development as well as future physical and mental health," Meghan Lee, one of our OB-GYN nurse practitioner, shares. "Our aim is to promote broader self-esteem and self-confidence as our young women transition into adolescence and also ensure that girls don't miss school due to a lack of feminine hygiene products."
For questions or more information about the program, contact Leigh Ann Ballegeer, director of community health, at laballegeer@mercy.com or 270-444-2969. To help financially support this program, please reach out to Mercy Health Foundation Lourdes.
Learn more about the gynecology, obstetrics and women's health services we provide at Mercy Health.