Alexandra (Alex) Navarro-Guzman, one of our Diversity and Inclusion specialists, was only in second grade when she moved to the United States from Puerto Rico with her mother.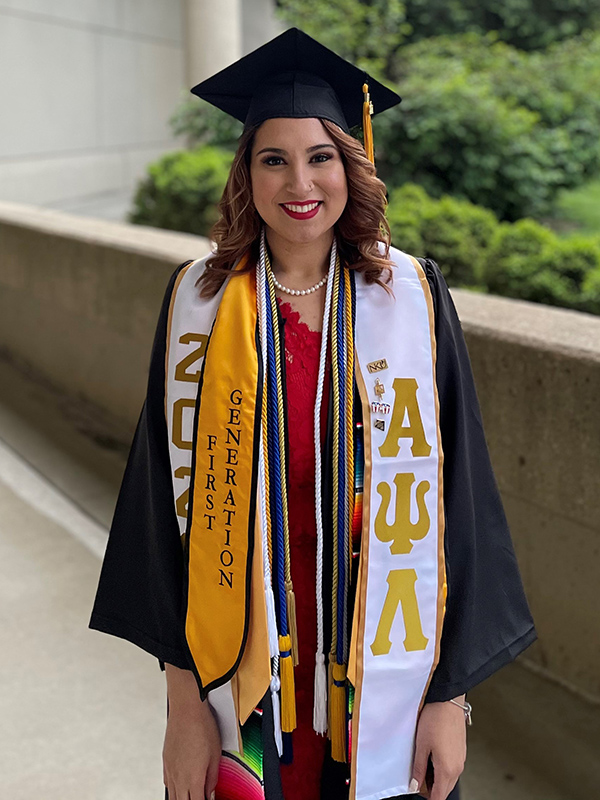 "My mom decided to move to the States because she wanted me to have better opportunities," Alex explains. "I wanted to show her and my family that leaving home was worth it, and that I could make them proud."
From there, Alex said it was her goal to push through adversity and move forward. She worked hard all throughout high school and, in 2016, she started her two bachelor's programs in international business and human resources at Northern Kentucky University. It was then she became the first person from her family to attend college.
"I'm really proud to say I'm a first-generation student," Alex shares. "There were definitely generational and educational barriers for my parents and my family. They worked hard to be here, and I want to continue that success."
With stellar academics and an extensive list of extracurricular activities, Alex graduated from NKU with her bachelor's in May of 2020. She got her start with our ministry after she interned for our Diversity and Inclusion team in the summer of 2019. After graduating, she started as a full-time learning delivery specialist in human resources.
But, when a specialist role in Diversity and Inclusion became available, Alex jumped at the opportunity to showcase her passions.
"I've found a team that really understands me – I don't have to be anyone else around them because they just get it and get me," Alex says. "I want to use my role to help foster that type of environment for everyone else within the ministry. Everyone should feel comfortable and included at work – and I get to educate people on how to provide that inclusive culture while fostering strong relationships."
While working full time with us, Alex also completed her Master of Business Leadership and Innovation at NKU, for which she'll have her graduation ceremony in December. She completed this program using our ministry's education benefits, which offer 100 percent tuition-free education for priority clinical programs, as well as tuition assistance for more than 100 additional in-network education programs and tuition reimbursement for most other programs and schools.
"I've always said that my bachelor's degree was for my family, but my master's degree was for me, to prove to myself that I could do it," Alex shares. "If I ever pursue my doctorate, it'll be for my children, to show them that if their mom can achieve it, then they can, too."
In addition to potentially going back for her doctorate, Alex says she sees herself staying in Diversity and Inclusion and Human Resources and pursing a leadership role.
"I want to advance in my career, and I want to keep learning – I'm a lifelong learner," Alex says. "But ultimately, I just want to make a difference. I want to make sure that people of color always have a seat at the table."
Learn more about our diversity and inclusion efforts at Mercy Health.
Also, read more of our Hispanic Heritage Month stories.