At The Jewish Hospital – Mercy Health, Cory Barrat, MD, MBA, FACS, FASCRS, is a colorectal surgeon, medical director of the oncology service line and director of the hospital's accredited rectal cancer program. Outside of work, he's the mandolin player of Moonshine Drive, a bluegrass band.
"I've always loved music and played multiple instruments growing up," Dr. Barrat shares.
While completing his residency at Riverside Hospital in Columbus, Ohio, he was introduced to 80 Hour Work Week, a rock cover band that played at a regular spot for residents and hospital staff.
"It felt like a band I could easily jump in with," he recalls. "So, I brought my saxophone one night and an attending physician encouraged me to join them on stage. I've played with them ever since."
Although Dr. Barrat no longer lives in Columbus, he still plays with 80 Hour Work Week a few times a year, which has become an all-physician band. His previous attending physician plays the guitar and sings, a neurosurgeon plays the drums, an anesthesiologist plays the bass and Dr. Barrat plays the saxophone and guitar.
Dr. Barrat moved to Cincinnati in 2016 when he joined The Jewish Hospital – Mercy Health as a colorectal surgeon after completing a year-long fellowship at Henry Ford Hospital in Detroit, Mich. Throughout the nearly seven years he's been with our ministry, he's most enjoyed being able to connect with and develop long-term relationships with his patients.
"Recently, I saw a patient from when I was newer to the practice who came in for her five-year follow-up appointment," he says. "It's great to see patients from before their treatment to after surgery to today and how they are able to enjoy their lives."
Shortly after moving to Cincinnati, through a coworker of his wife, Dr. Barrat met a member of Moonshine Drive and quickly became part of the bluegrass band. They play a few times a month at local restaurants or breweries. The five-person band also has a few other physicians including Dr. Greg Mecoli, an ophthalmologist with Mercy Health – West MOB Lab Services, who plays the bass.
Moonshine Drive even played at the Cincinnati Zoo's popular Tunes and Blooms event and just finished recording their first album.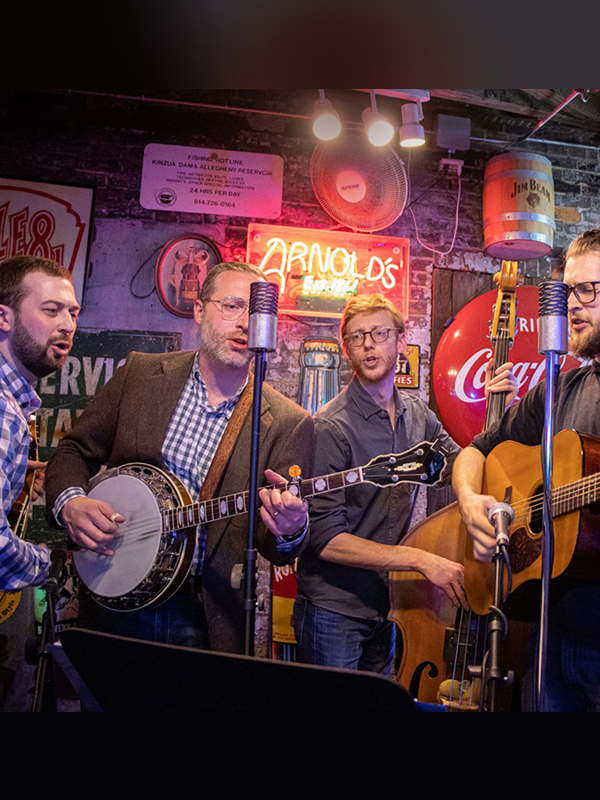 "We've played together for more than five years and have never recorded anything until now," Dr. Barrat adds. "It's a cool moment to say we recorded and are looking into selling vinyl records."
As for the accomplishment Dr. Barrat is most proud of since joining The Jewish Hospital – Mercy Health? It would be forming the rectal cancer program and receiving a three-year accreditation in 2021 from the National Accreditation Program for Rectal Cancer (NAPRC), a quality program of the American College of Surgeons (ACS).
Dr. Barrat is one of only two Mercy Health fellowship-trained colorectal surgeons in Cincinnati and is passionate about improving overall colorectal care. He recognized this new program was something the team at The Jewish Hospital – Mercy Health could strive toward and led the process of collecting the right data and meeting requirements outlined by the ACS.
Now, The Jewish Hospital – Mercy Health is one of 50 hospitals in the country, and the only hospital in the Cincinnati area, to receive this accreditation.
"We have a strong team in place, continue to collect data that helps us get better and we'll work towards re-accreditation next year. It's all about providing the best possible care for our patients!"
Learn about the cancer care services we offer at Mercy Health.