For as long as Allie Morales could remember, her father suffered from severe headaches.
It was something that he had learned to live with, she shares, because although his doctors knew he had veins in his brain that weren't formed correctly, there wasn't much they could do.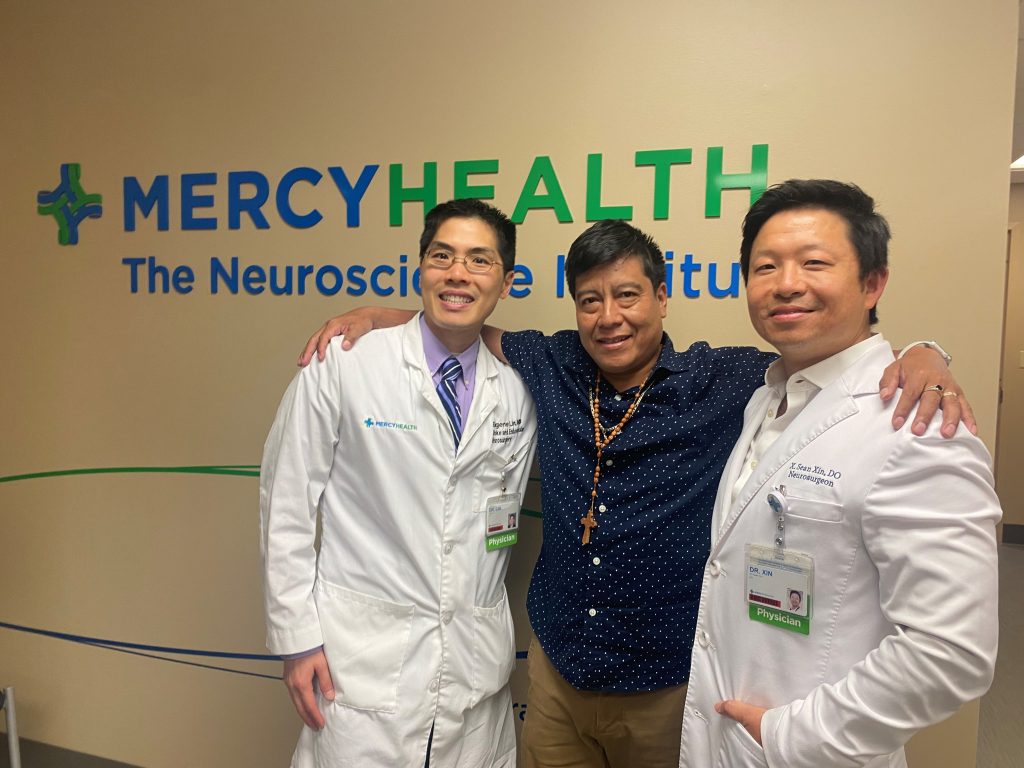 Until recently.
Fredi Morales, 49, from Willard, Ohio, suffered from a grade 4 cerebral arterial-venous malformation (AVM) discovered more than 15 years ago. At the time, it was considered inoperable. He was also told that one day the condition could result in a rupture, which would mean a brain hemorrhage that could lead to severe brain damage and even death.
"Last year, the headaches were becoming more frequent and were a lot stronger," Allie recalls, adding that they took Fredi to Mercy Health – Willard Hospital, where he was eventually referred to X. Sean Xin, DO, a neurosurgeon at Mercy Health – Neuroscience Institute.
"We learned that this is something that could rupture and that every year the chance went up that he could suffer a hemorrhage," Allie adds, noting that this time, the family was given an option for surgery. "We talked about it as a family and decided to do it."
In April of 2023, after spending most of his life experiencing headaches, this father of seven and grandfather of three underwent a 17-hour surgery at Mercy Health – St. Vincent Medical Center.
According to the National Institute of Neurological Disorders and Stroke, AVMs are abnormal, tangled blood vessels that cause many irregular connections between veins and arteries. They most often are found in the spinal cord, in the brain or on the brain's surface.
Our doctors explained to the Morales family that, essentially, normal arteries carry oxygenated blood from the heart to the body's organs, tissues and cells and that veins return deoxygenated blood. But in an AVM, a lack of capillaries – the tiny blood vessels that connect arteries to veins and deliver oxygen to cells – means blood passes directly from arteries to veins and then bypasses tissues.
"It's like passing water from a fire hose to a garden hose without a transition. Over time, a rupture is likely to occur," Eugene I. Lin, MD, another neurosurgeon on Fredi's care team, adds.
To alleviate the concern, Dr. Xin had to remove the malformed blood vessels from Fredi's brain. The complex case required weeks of planning and coordination and involved multiple members of our neuroscience team.
Dr. Lin and his team performed two preoperative embolization procedures that were crucial to the success of the surgery. From there, Dr. Xin removed the malformed network of vessels with assistance from Zubair Ahammad, DO. Fredi was then placed in the care of Chan Seng Tan, MD, and Paul Brady, MD, leaders of our neuro ICU team, while he recovered.
"This case is a reminder that every day, we all come together with a common goal of helping people, and most days, we perform routine surgeries and take care of our community," Dr. Xin says. "Fredi has made a remarkable recovery from the surgery without any complications or neurological deficits and is now cured of this devastating disease."
"Surgery was long, difficult but extremely meticulous and no complications occurred," Dr. Xin adds.
Two months after his operation, Fredi Morales returned to St. Vincent Medical Center for a post-op appointment. There, with his wife and two daughters surrounding him, he reunited with some of his surgeons. A native Spanish speaker, Fredi said little but did acknowledge a sense of relief.
"We've been great," Allie shares about her family. "My dad was in the hospital for over a week and when he got home, it was a big relief. We were all happy to have him home."
"God gave him another chance," she adds. "This surgery was very, very complicated. The fact that there were no significant problems is such a miracle."
Learn more about the neurology and neurosurgery services we provide at Mercy Health.