Linda Stetson and her family are farmers. She looks forward to being among the first each spring to get outside and work in the yard. This year, yard work has been possible for Linda thanks to a mitral heart valve replacement via a MitraClip procedure. In fact, she was among the first in Western Kentucky to have this treatment.
Linda's health issues began last year with debilitating pain. She ended up spending time in the intensive care unit (ICU) after suffering two heart attacks. When it was discovered that the mitral valve in Linda's heart was no longer working properly, she was concerned this meant a long trip away from family in order to have the issue addressed.
"We come from a small town in Missouri," Linda explains. "We thought to go see a doctor we'd have to go to Memphis or Cape Girardeau. Being able to have a doctor right here in Paducah, we're just so blessed."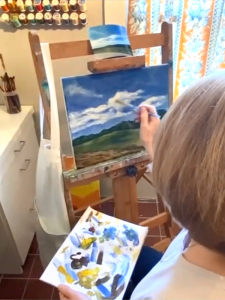 That person is Abelkader Almanfi, MD, (pictured above) one of our cardiologists and the first physician in Western Kentucky or Southern Illinois to perform transcatheter mitral valve repair utilizing MitraClip.
The repairing the mitral valve is now a simple procedure that fixes issues without needing open-heart surgery. During the procedure, doctors access the mitral valve with a thin tube, a catheter, that is guided through a vein in the leg to reach the heart. Then, a device known as a MitraClip is implanted onto the mitral valve to help it close more completely. While the valve continues to open and close on either side of the clip, blood continues to flow on both sides. This then reduces backward movement and restores normal blood flow through the heart.
"Previously, to resolve Linda's issue locally it would have required the opening of the chest or needing to stop the patient's heart during the procedure," Dr. Almanfi shares. "To receive the minimally invasive options we now offer in Paducah, patients would have had to travel to Nashville. However, we are now bringing advanced care to patients closer to where they live."
Linda adds, "after the surgery it was just like I was reborn, being able to pick back up the things that I like."
Those things include painting and, with the warmer weather, getting back to work on the farm.
"I kept thinking about spring. It's like a whole new life," Linda says.
Learn more about the heart and vascular services we offer at Mercy Health.